Neil Harman
from The Times reports he saw #2 WTA
Maria Sharapova
practising with Bulgarian tennis hope
Grigor Dimitrov
at Margaret Court Arena... There is the smoke. But is there fire?
Let's try to find facts that prove or deny such thesis.
#1 Players don't confirm.
Grigor Dimitrov
, former acquaintance of
Serena Williams
, has stated he wouldn't discuss his private life with the journalists.
Maria Sharapova
, after splitting up with Slovenian basketball player
Sasha Vujacic
, has not declared anything regarding her love affairs either.
#2 ESPN knows anyway.
Darren Rovell from ESPN seems to be sure, though he doesn't precise his source.
"Maria Sharapova is off the market again. Got confirmation she's dating Bulgarian tennis player, 21-year-old Grigor Dimitrov,"
he tweets. How does he know, when players don't want to talk about it? Did he see them in the locker room? Was he invited for a threesome for some special, unbeknown to me merits? Someone told another person in secret and the other person told another friend, and the word fleed? If it's confirmed, surely not by the sportsmen themselves.
However, not Mr. Rovell was the first person to write about it.
Colette Lewis
from zootennis reported about this rumour (or "open secret?") already at the beginning of December, from Florida! The ESPN journalist might have been suddenly informed by Florida sources, and he stole the show from the original provider - a month later after the topic emerged.
Anyway, until their kisses are documented, all sources are nothing more than rumours.
#3 Photos.
Not many of them. Check the paparazzi shot. He is clearly stalking her, but it's not the same as "dates her."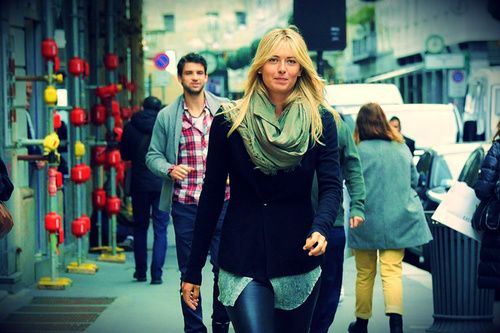 Photo: onthegotennis.com
#4 Maybe it's friendship?
After the fail with Patrick Mouratoglou, Grigor Dimitrov has moved to Sweden for Good to Great Academy (
Magnus Norman
is the most famous coach of the academy). Maria Sharapova has had a Swedish coach for a longer time. His name is
Thomas Hogstedt
. A joint practise session with a good ATP player is precious for the Russian, who will try to receive Serena Williams' bombs and face Victoria Azarenka's defense.
#5 Tragic role of Lesia Tsurenko
The Ukrainian was seen emotionally cheering for Dimitrov at all of his Brisbane matches...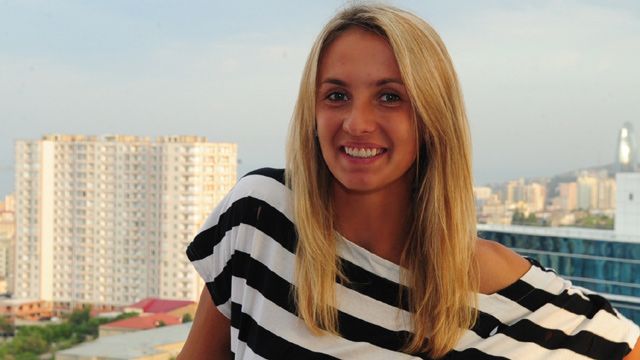 Photo: wtatennis.com
#6 Wishful thinking factor
They're both young (yes, Maria is four years older, but it's very little), beautiful, talented. They would make the cover of all magazines, much to Nike's joy. Don't we all want to see fairytale stories and Hollywood endings?
Except of people who strongly believe Grigor Dimitrov is gay and Maria Sharapova is a lesbian, and even if they get married, it would be still a cover-up story.

#7 Players don't confirm
We come back to #1, this time for a different reason. Why not just deny, if really untrue? After all, Maria's alleged romances with
Novak Djokovic
and
Andy Roddick
were denied.
specials #8 Photoshop overkill
Don't think about the lovers now. Focus on the guy in the background, on the right.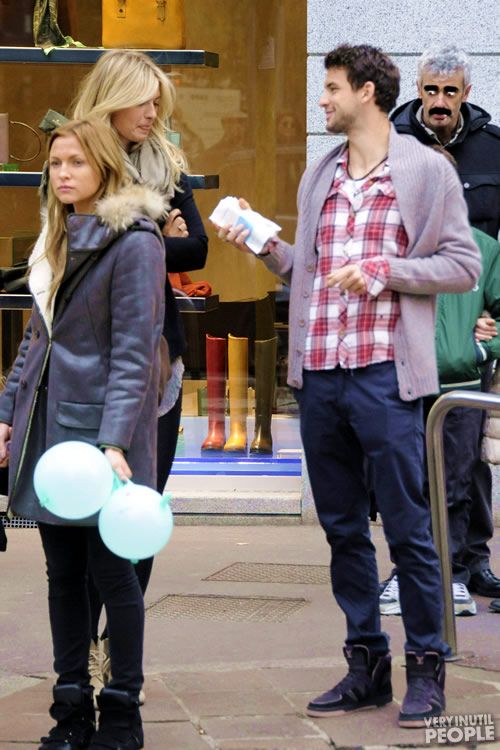 Photo: veryinutilpeople.it
TennisSpinster
READ MORE ON TENNIS ALTERNATIVE
Monica Puig - player profile
TennisSpinster: John Isner withdraws from Australian Open 2013
Sydney WTA 2013 Final: Agnieszka Radwanska vs. Dominika Cibulkova
TennisSpinster: Are Grigor Dimitrov and Maria Sharapova dating?
Agnieszka Radwanska double bagels, and wins Sydney 2013 title
Hobart WTA 2013 Final: Elena Vesnina vs. Mona Barthel
Auckland ATP 2013 Final: David Ferrer vs. Philipp Kohlschreiber
Sydney ATP 2013 Final: Bernard Tomic vs. Kevin Anderson
Like us on Facebook!
CLICK HERE FOR LIVESCORES