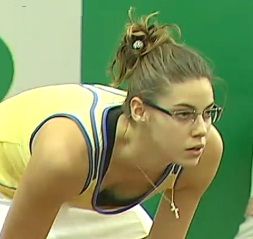 Croat
Ana Savic
(photo) beat
Monica Puig
5-7 6-3 6-4 and she won her first 50K ITF. She is the girl who plays with glasses, Peak clothes and Nike wristband. Savic was very collected after the victory and didn't celebrate. She will get a new career high next week. The previous one (#273) comes from 2009.
Ana Savic
started the first set very well, she put more pressure and eventually broke to lead 4-2 and have 0-30 on Puig's serve. The Puerto Rican made errors and didn't look very focused. Savic is a good shotmaker, especially from the forehand side. She either hit winners, or sent deep returns to Puig's feet, about which Puig was clueless. However, Monica is a big fighter, she composed herself and saved the setpoint. It went along with Savic's collapse: many unforced errors netted backhands, poor movement, weak second serve. Monica Puig won 4 games in a row and clinched the first set 7-5.
The second set went the way the Croat should have won the first. Ana Savic broke already in the first game and in the end she broke again. This time no crisis occured and Savic won 6-3.
The decider was pretty nervous and even. Savic was twice down a break, but in the deciding moments she was more offensive and her serve worked fine. Puig, after losing her big lead, appeared very gutted and tense, and she lost her lst serve to 15 in front of the large audience in Ankara hall. She forced a sad smile at the handshake and appeared to be thinking of how on Earth she was able to lose.
Nathii
Photo: TA
READ MORE ON TENNIS ALTERNATIVE
ITF Ankara 50K 2012 Final: Ana Savic vs. Monica Puig
Ana Savic wins Ankara ITF 50K 2012
TennisSpinster: Richard Gasquet updates his 2013 start calendar
Like us on Facebook!
CLICK HERE FOR LIVESCORES